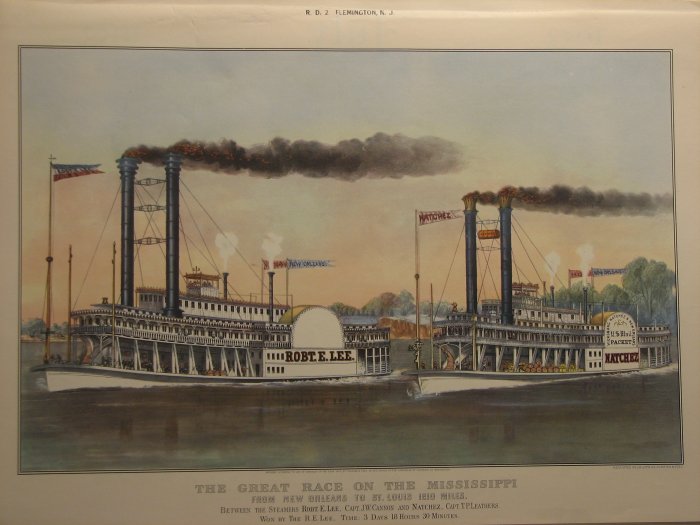 The caption of this 1870 lithographic print reads as follows:


THE GREAT RACE ON THE MISSISSIPPI
FROM NEW ORLEANS TO ST. LOUIS 1210 MILES. Between the Steamers Robt. E. Lee Capt. JW Cannon and Natchez. Capt. T.P.Leathers. Won by The R.E. Lee. Time: 3 Days 18 Hours 30 Minutes.
This riverboat race was an event of some notoriety in its time, and numerous prints of the era were devoted to it. See also this print, which is of a different riverboat race.











"A Spill Out" on the Snow
A Brush on the Snow
A Home in the Wilderness
A Home on the Mississippi
American Homestead Autumn

American Homestead Summer
American Homestead Winter
American Hunting Scenes - "An Early Start"
American Prize Fruit
American Whaler

American Whalers Crushed in the Ice
Catching a Trout
Clipper Ship "Dreadnought"
Clipper Ship "Sweepstakes"
Cozzen's Dock - West Point

Dexter, "The King of The Turf"
First Appearance of Jenny Lind in America
Garden Orchard and Vine
Going to the Trot
Great Five Mile Rowing Match

Hero and Flora Temple
Independence Hall, Philadelphia 1776
Lookout Mountain Tennessee
Maple Sugaring
Midnight Race on the Mississippi

Morning In The Woods
Neptune House
Peytona and Fashion
Speeding on the Avenue
The Celebrated Four in Hand Stallion Team

The Discovery of the Mississippi
The Farmers Home - Summer
The First Trot of The Season
The Great Ocean Yacht Race
The Great Race on the Mississippi

The Hunters Shanty
The Life of a Fireman
The Miniature Ship Red, White, and Blue
The Night Express
The Pursuit

The Return From The Woods
The Trout Pool
The Velocipede
Trotting Cracks on the Snow
Western River Scenery

Winter Morning in the Country
Winter Sports - Pickerel Fishing
Woodcock Shooting